PINAH X EMILIA WICKSTEAD
Created by Pinah for Emilia Wickstead's stunning London Fashion Week SS24 runway show, the Bossa earrings in silver and gold are the perfect match for the holiday season.

Meticulously crafted from pure silver and plated with a thick layer of 24K gold for the gold option, each pair is carefully hand-sculpted, creating distinct organic shapes and a natural flair.

The handmade nature of these earrings ensures that every piece is unique, embodying individuality with its one-of-a-kind design.
The Bossa earrings are available for through Pinah and Emilia Wickstead's stores.

Prices: £650 silver | £750 gold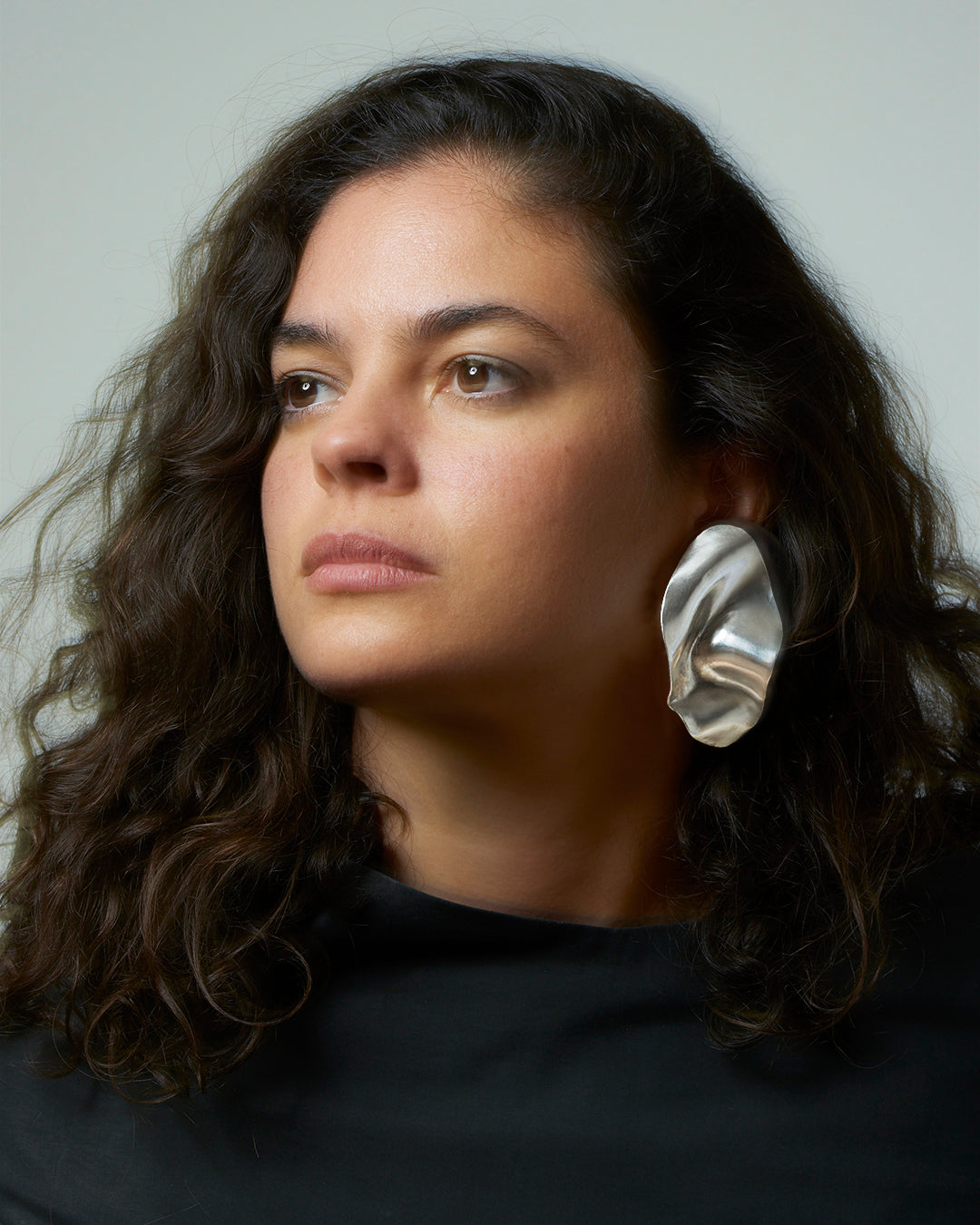 Pinah jewellery at Emilia Wickstead's London Fashion Week SS24
The free-thinking women and the sartorial liberation of the 1930s South of France inspired the designer Spring Summer 2024 collection.
Following the fluidity of her collection, Emilia chose the Bossa pieces to pair with her clothes. Extra large earrings and chokers were created for her London show.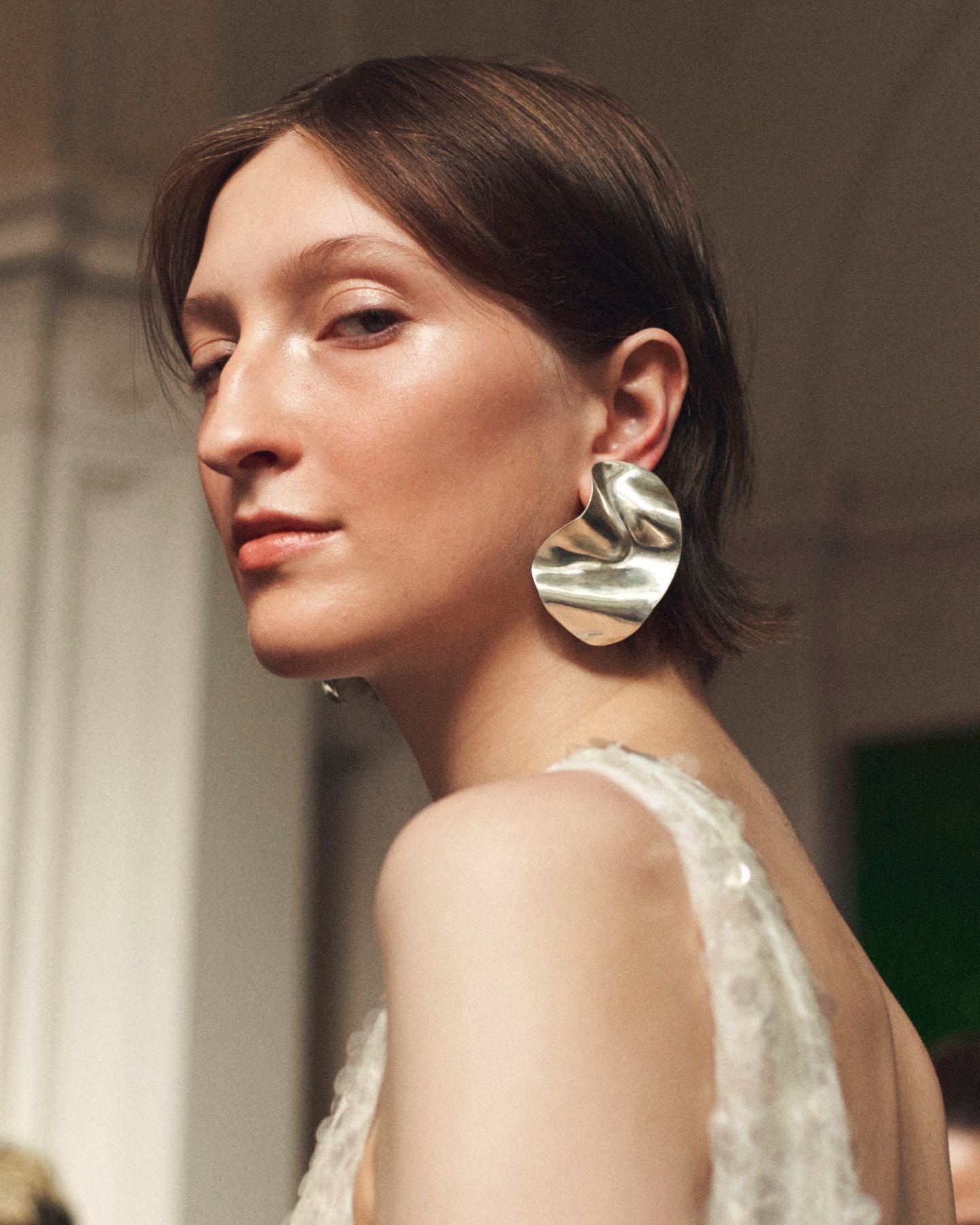 Created by Joana Pires, Pinah was born of her passion for jewellery, shapes and forms, but especially from her curiosity about making wearable objects.
With a background in theatre, Joana constantly reimagines the world around her, which translates into her pieces that she calls 'experiments to wear'.
For her, creating a piece of jewellery always starts with an idea and a meaning, with the thought of what she wants to say with it. Then, after a concept is established, she begins experimenting with the best way of transforming her idea into necklaces, earrings, bracelets, and rings.
Using different materials is a crucial part of the process. Silver, gold, iron, stainless steel, paper, cardboard, leather, resin, clay, found objects… Anything goes.
From start to finish, all her pieces are handmade through a fluid, intuitive and offbeat approach to making jewellery; her final pieces are raw, playful, experimental and, most importantly, wearable.
ABOUT THE ARTIST
Joana Pires is a self-taught jewellery artist who uses mixed media to create her pieces.
Brazilian, based in London, UK, Joana graduated in both Drama and Cinema. She spent over 12 years as an actress and producer before creating Pinah and becoming a full-time maker.
Her work is experimental, and her final pieces are raw, playful and wearable.
Through her pieces, Joana wants to explore the possibilities of what a piece of jewellery can be and what story it can tell.
MORE | NEW COLLECTION: Uncontrolled (in a few acts)
"Some people never go crazy. What truly horrible lives they must lead." - Charles Bukowski

Embracing the organic, the unbridled, and the untamed in a series of one-of-a-kind rings that have been brought to life with minimal interference from the artist, reflecting the unpredictable beauty of creativity.

From the words of the legendary writer Charles Bukowski, Joana's pieces embody this philosophy, celebrating the chaos and beauty of relinquishing control over the creative process.

Ring price: £120, free UK shipping.